Vol. 28 | November 2017
Customer Service Survey
Periodically, NISS sends out a customer service survey to our member companies to assess ways we can make the reporting process easier for our members as well as get feedback on our quality of service. We recently received results from our most recent survey, and the responses were overwhelmingly positive. Here are a couple examples: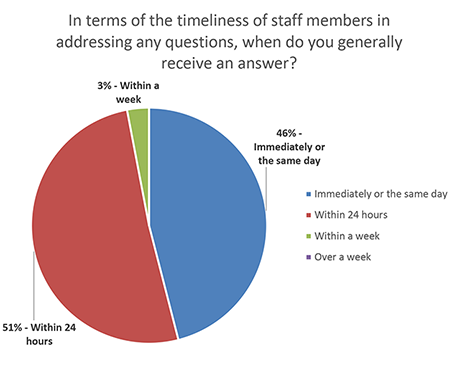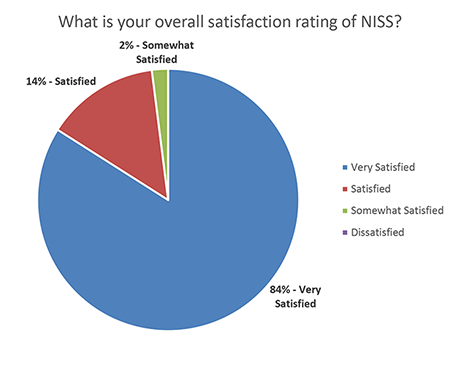 NISS is very pleased with the responses from the survey. We will continue to do all we can to make the reporting process as easy and simple as it can be.
Supplemental Auto Call - Membership Fee (MBR) Call
Each year on November 15th, NISS sends the Residual Market Participation Quota Determination to AIPSO on behalf of our member companies. Companies that write voluntary automobile policies are required to write a proportional number of residual market automobile policies, and AIPSO determines each company's quota based on the data NISS sends.
In order to provide AIPSO the correct amount of premium for each company, we may have to take into account premiums that are included on your annual statement as automobile but may not be reported in the data submission to NISS. For this reason, the Membership Fee (MBR) Call is collected. The MBR Call includes membership or policy fee data with premiums separated between drivers under 25 years of age and senior citizen drivers. These fees can also be reported in the automobile data submission, however, if they are excluded, the fee amounts need to be reported with the MBR Call.
By either including the membership fees in the data submission or reporting the amounts on the MBR Call, we can ensure that we are sending AIPSO the correct premium amounts. This will also ensure that each company is receiving the proper credit for writing drivers under 25 years of age and senior citizen drivers, and that they receive the correct number of assignments from the quota determination.

Where We're Going and Where We've Been
In April, NISS attended the IDMA Conference in Chicago, Illinois
In June, NISS hosted booth #1231 at the Insurance Accounting & Systems Association (IASA) Annual Conference in Orlando, Florida
In September, NISS hosted booth #727 at the NAMIC Convention in Denver, Colorado
In October, NISS attended the InsureTech Connect Conference in Las Vegas, Nevada
NISS attends the NAIC meetings throughout the year
About Us
NISS is a unique resource for the property/casualty insurance industry. We collect and report timely, quality insurance data and perform other related functions at a reasonable cost.
For more information, please visit www.niss-stat.org.
2017 Upcoming Due Dates
For a list of upcoming due dates, please click here.
2017 Upcoming Meetings
Executive Committee Meeting
Teleconference
November 28, 2017
Board Meeting
Teleconference
December 18, 2017
Stat Brain Teaser
Two parents have seven daughters. If each daughter has a brother how many children do they have total?
Please email your answers to NISSNews@niss-stat.org. A person will be randomly drawn from the first ten correct answers, and that person will win a $25 gift card from Amazon.com!
Winner of $25 Amazon gift card last quarter: Tina Dinh
For the question and answer from the last brain teaser, please view the NISS News section here.