Vol. 24 | November 2016
New Look for NISS Booth and Brochure
With all the website enhancements and new tools and resources NISS has provided to our members over the last several years, we decided it was time to freshen up the content of our brochure and booth materials. Last month, NISS debuted the new look of the booth at the NAMIC Convention in Vancouver, British Columbia.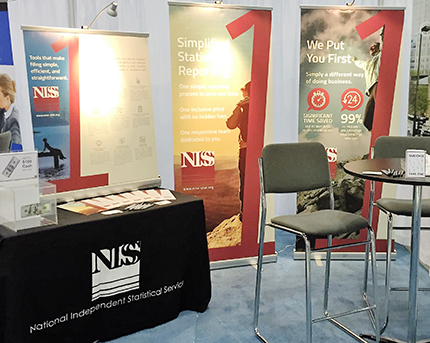 While the content of the booth and brochure has been updated, the NISS philosophy remains unchanged – to keep the statistical reporting as simple as possible for our member companies. We look forward to continuing to serve you and to provide you with the resources you need. If you'd like to check out our new brochure, please click here.
NISS - a Brief Overview
NISS has been providing statistical agent services to the property/casualty insurance industry since 1959. We are a not-for-profit corporation governed by a Board of Directors composed of member company representatives. NISS acts solely as a statistical agent and collects summarized statistical records from its member companies. NISS collects data in the minimum detail necessary to meet the requirements of the individual state insurance departments.
NISS also has a Technical Advisory Committee (TAC), which is a group comprised of member company representatives that advise NISS on the impact of proposed changes. This committee also shares ideas on how to make the reporting process as simple as possible and ways to make the website and other resources more convenient and useful for member companies. NISS appreciates the input and guidance of both the Board of Directors and the Technical Advisory Committee.
Where We're Going and Where We've Been
In April, NISS attended the Insurance Data Management Association (IDMA) Annual Conference in Philadelphia, Pennsylvania
In June, NISS hosted booth #114 at the Insurance Accounting & Systems Association (IASA) Annual Conference in San Antonio, Texas
In September, NISS hosted booth #623 at the NAMIC Convention in Vancouver, British Columbia
In October, NISS attended InsureTech Connect in Las Vegas, Nevada
NISS attends the NAIC meetings throughout the year
About Us
NISS is a unique resource for the property/casualty insurance industry. We collect and report timely, quality insurance data and perform other related functions at a reasonable cost.
For more information, please visit www.niss-stat.org.
2016 Upcoming Due Dates
For a list of upcoming due dates, please click here.
2016 Upcoming Meetings
Executive Committee Meeting
Teleconference
November 29, 2016
Board Meeting
Teleconference
December 19, 2016
Stat Brain Teaser
A man entered a parking garage driving a U-Haul truck. The truck was 7 feet tall, and barely made it under the metal clearance bar that was also 7 feet tall. However, as the man was leaving the parking garage, he couldn't get out because his truck was too tall. Why?
Please email your answers to NISSNews@niss-stat.org. A person will be randomly drawn from the first ten correct answers, and that person will win a $25 gift card from Amazon.com!
Congratulations to Juli Frank who won the $25 Amazon Gift Card in the last drawing for answering the Brain Teaser correctly!
For the question and answer from the last brain teaser, please view the NISS News section here.